Annual
latte art
championship
The 2023 championship has now concluded. Sixteen competitors from around the UK battled it out, and a winner was crowned. Congratulations to our champion, Kelvin Lee, and well done to our runners-up, Montserrat and Javier.

Thank you to our fantastic sponsors, La Marzocco UK, Mió, and MOMA Foods. We will see you all again next year.

Team Fireheart
Thank you to our

Sponsors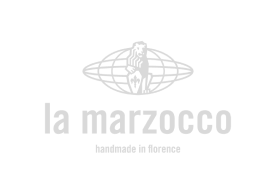 The Competition
Competition registration has now closed!
Sixteen competitors will be randomly selected from all entries. Those selected will be matched up at random to compete in the competition.
Matchups will be posted on this page on Friday 30th June, a week before the competition, so remember to check back to see if you made the cut, and start researching your first opponent.
Each competitor can also bring two additional people with them the event, to cheer you on while you win and commiserate with you if you're eliminated.
Frequently Asked Questions
Can I bring my own milk pitchers?
No. All competitors will be provided with the same pitchers to ensure fairness.
What Latte Art will I have to pour?
An audience member will be asked to spin our Gameshow-style wheel-of-fortune, which will have an image of a Tulip, Heart, and Rosetta on it. You'll be asked to pour whichever design it lands on.
Will I need to pull shots?
No. Fireheart's Head Roaster, Ross, will be stationed behind the bar and provide competitors with shots to pour into.
What size cups will be used?
6oz Flat White cups.
How will competitors be judged?
Three judges will then select the winning pour based on likeness to the image on the wheel, contrast, symmetry, and placement in the cup. The winner will progress into the next heat.
With sixteen competitors there will be four heats with a bronze match to determine third place. There will be a fifteen-minute break between heats.
Once we have our finalists the wheel will be spun three times, and a winner will be crowned by best-of-three.
What equipment, milk, and coffee will be used?
Competitors will use Linea Mini espresso machines, provided by La Marzocco UK. Oat milk provided by MOMA. Coffee provided by Fazenda Mió and roasted by Fireheart. You can also buy this coffee directly from us here.